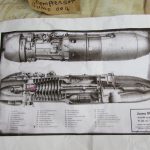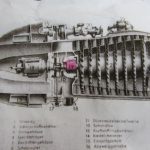 WW2, German Compressor from M.E 262
WW2, German Compressor from M.E 262
£375.00
£375.00
WW2, Messerschmitt 262, compressor
Description
Shipping and Delivery
Reviews (0)
Description
WW2, German Compressor from M.E 262
German Compressor from a Junkers Jumo 004-B .
The Junkers Jumo 004 was the world's first production turbojet engine in operational use, and the first successful axial compressor turbojet engine.
Some 8,000 units were manufactured by Junkers in Germany late in world war 11, powering the Messerschmitt ME 262 fighter.
This compressor came from a crash site excavation site in Holland.
This piece was in Relic condition so has been coated to protect from rust .
Photo shows where  on the aircraft this item was situated.
This is a heavy item so please call to discuss collection/delivery options
The Junkers Jumo 004 was the world's first production turbojet engine in operational use, and the first successful axial compressor turbojet engine. Some 8,000 units were manufactured by Junkers in Germany late in World War II, powering the Messerschmitt Me 262 fighter and the Arado Ar 234 reconnaissance/bomber, along with prototypes, including the Horten Ho 229. Variants and copies of the engine were produced in Eastern Europe and the USSR for several years following the end of WWII.
Design and development
The feasibility of jet propulsion had been demonstrated in Germany in early 1937 by Hans von Ohain working with the Heinkel company. Most of the Reich Air Ministry (RLM) remained uninterested, but Helmut Schelp and Hans Mauch saw the potential of the concept and encouraged Germany's aero engine manufacturers to begin their own programmes of jet engine development. The companies remained skeptical and little new development was carried out.
In 1939 Schelp and Mauch visited the companies to check up on progress. Otto Mader, head of the Junkers Motorenwerke (Jumo) division of the large Junkers aviation firm, stated that even if the concept was useful, he had no one to work on it. Schelp responded by stating that Dr Anselm Franz, then in charge of Junkers' turbo- and supercharger development, would be perfect for the job. Franz started his development team later that year, and the project was given the RLM designation 109-004 (the 109- prefix, assigned by the RLM was common to all reaction engine projects in WW II Germany, and was also used for German WW II rocket engine designs for manned aircraft).
Franz opted for a design that was at once conservative and revolutionary. His design differed from von Ohain's in that he utilised a new type of compressor which allowed a continuous, straight flow of air through the engine (an axial compressor), recently developed by the Aerodynamische Versuchsanstalt (AVA – Aerodynamic Research Institute) at Göttingen. The axial-flow compressor not only had excellent performance, about 78% efficient in "real world" conditions, but it also had a smaller cross-section, important for high-speed aircraft. Dr. Bruno Bruckman's old assistant on the jet engine program, Dr. Österich, took over for him in Berlin, and selected the axial flow design, due to its smaller diameter;[1] it was 10 cm (3.9 in) less than the competing axial-flow BMW 003.[2]
On the other hand, he aimed to produce an engine that was far below its theoretical potential, in the interests of expediting development and simplifying production. One major decision was to opt for a simple combustion area using six "flame cans", instead of the more efficient single annular can. For the same reasons, he collaborated heavily on the development of the engine's turbine with Allgemeine Elektrizitäts-Gesellschaft (General Electric Company, AEG) in Berlin, and instead of building development engines, opted to begin work immediately on the prototype of an engine that could be put straight into production. Franz's conservative approach came under question from the RLM, but was vindicated when even given the developmental problems that it was to face, the 004 entered production and service well ahead of the BMW 003, its more technologically advanced but slightly lower thrust competitor (7.83 kN/1,760 lbf).
At Kolbermoor, location of the Heinkel–Hirth engine works, the Fedden Mission, led by Sir Roy Fedden, found jet engine manufacturing was simpler and required lower-skill labor and less sophisticated tooling than piston engine production; in fact, most of the making of hollow turbine blades and sheet metal work on jets could be done by tooling used in making automobile body panels.[3] Fedden himself criticized the attachment of the 004's compressor casing, which was in two halves, bolted to the half-sections of the stator assemblies.[4]