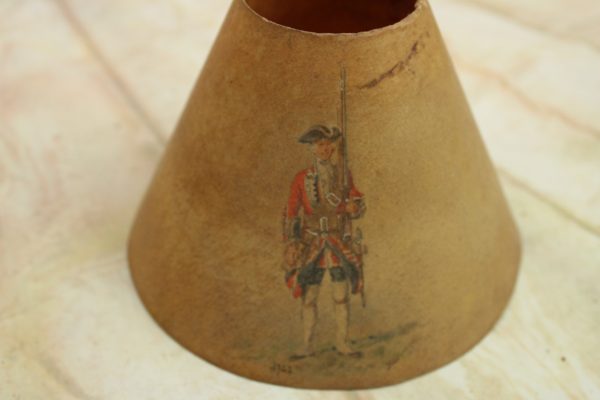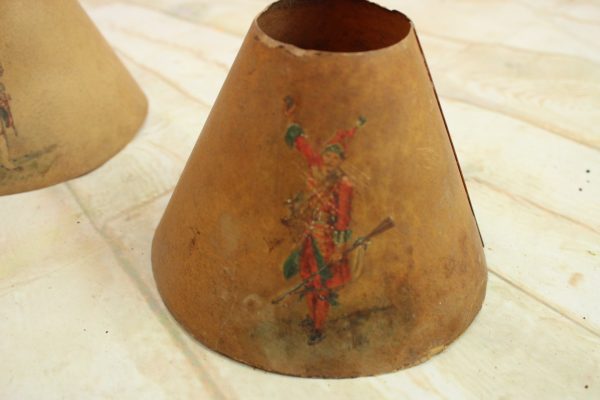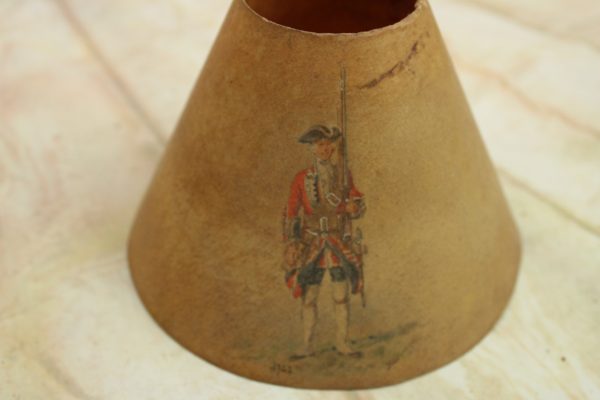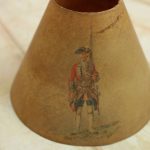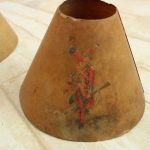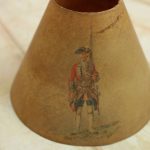 Wymer Victorian Hand Painted Lamp shades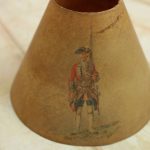 Wymer Victorian Hand Painted Lamp shades
£325.00
£325.00
Reginald Augustus Wymer Painted Foot soldier lamp shades
Description
Shipping and Delivery
Reviews (0)
Description
R A Wymer Victorian Hand Painted Lamp shades
A set of three Stiff paper lamp shades , each one has been hand painted with individual scenes of foot soldiers, each shade has two soldiers , one on each side.
1st one has foot soldier dated on the base 1670 on the reverse is 1684
2nd one has foot soldier dated 1742 and on the reverse is 1760
3rd one has foot soldier dated 1745 and on the reverse is also 1745
Each one has the signature of Reginald Wymer, as can see from photo's.
The paint used has bled through to the inside on the main red coats.
These are  late Victorian pieces and effectively are 6 portraits from probably one of the finest military illustrators, Wymer was known for his accuracy and detail in both British and Continental uniforms.
R.A.Wymer  1849-1935
Each shade has wear and some foxing due mainly to age.  But they no tears or holes.
Reginald Augustus Wymer (1849-1935) was a military painter. He was commissioned in the 34th Foot Regiment in 1867; transferred to the 91st Highlanders in 1870; made a Captain in the 2nd (Militia) Battalion of the Queen's Own Cameron Highlanders; and retired as a Major in 1905. His works were collected by Queen Victoria, the Prince of Wales (later Edward VII) and Queen Mary, who visited Fortnum and Mason's on 28 May 1932 'to see charming pictures by Major Wymer'.
At this time, Antiqurio ships to locations within the United Kingdom mainland. Items can be shipped worldwide by prior agreement please contact us. The risk of loss and title for all items ordered on this website pass to you when the items is delivered to the shipping carrier. We are unable to calculate shipping automatically for multiple items when shipping internationally please contact us by email if you wish to purchase more than one item and live outside of the UK; we are working to resolve this
International
Customs and import duties may be applied to International orders when the shipment reaches its destination. This is not imposed by Antiqurio and these charges are the responsibility of the recipient of your order and are likely to vary from country to country. Contact your local customs office for details.
Shipping laws are different in each country. It is your responsibility to check with your Customs office to verify whether the country to which you are shipping permits the shipment of your products. Antiqurio is not responsible for any direct, indirect, punitive, or consequential damages that arise from improper international shipping practices.