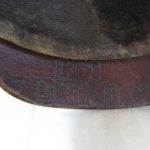 Prussian Pickelhaube Helmet 1895
Prussian Pickelhaube Helmet 1895
£450.00
£450.00
WW1 Prussian , German  Pickelhaube Helmet 1902
Description
Shipping and Delivery
Reviews (0)
Description
Prussian Pickelhaube Helmet 1895
Prussian Pickelhaube Helmet 1895, Nice original condition enlisted 1895 Pickelhaube, not played around with Pickelhaube. Full brass fittings, Prussian issue helmet plate. Dated inside 1902, with other markings to edge of rear visor ,all leather liner , one small wear hole to liner, original liner with leather pull string. Leather helmet is in good condition and has a good shape.
The Pickelhaube (plural Pickelhauben; from the German Pickel, "point" or "pickaxe", and Haube, "bonnet", a general word for "headgear"), also Pickelhelm, is a spiked helmet worn in the 19th and 20th centuries by Prussian and German military, firefighters and police. Although typically associated with the Prussian Army, which adopted it in 1842–43, the helmet was widely imitated by other armies during that period. It is still worn today as part of ceremonial wear in the militaries of certain countries, such as Sweden, Chile, and Colombia.
The Pickelhaube was originally designed in 1842 by King Frederick William IV of Prussia, perhaps as a copy of similar helmets that were adopted at the same time by the Russian military. It is not clear whether this was a case of imitation, parallel invention, or if both were based on the earlier Napoleonic cuirassier. The early Russian type (known as "The Helmet of Yaroslav Mudry") was also used by cavalry, which had used the spike as a holder for a horsehair plume in full dress, a practice also followed with some Prussian models (see below).
he basic Pickelhaube was made of hardened (boiled) leather, given a glossy-black finish, and reinforced with metal trim (usually plated with gold or silver for officers) that included a metal spike at the crown. Early versions had a high crown, but the height gradually was reduced and the helmet became more fitted in form, in a continuing process of weight-reduction and cost-saving. In 1867 a further attempt at weight reduction by removing the metal binding of the front peak, and the metal reinforcing band on the rear of the crown (which also concealed the stitched rear seam of the leather crown), did not prove successful.
Prussian Pickelhaube Helmet 1895