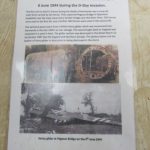 WW11 Piece from a Horsa Glider,D. Day 1944
WW11 Piece from a Horsa Glider,D. Day 1944
£150.00
£150.00
WW11 Piece of Horsa Glider , D.Day 1944
Description
Shipping and Delivery
Reviews (0)
Description
Final piece from a D.Day British Horsa Glider airframe which was salvaged in the late 1940s from Normandy. The airframe was bought back to England and remained in a yard in Kent but unfortunately the whole piece was destroyed during the Great Storm of the night of 16 October 1987. You can see from photo's.
The piece is fabric covered over a plywood frame, and has a couple of fixing brackets .
The piece is 44 in in length and tapers to one end.
The piece is in relic condition, as can see .