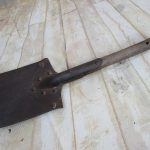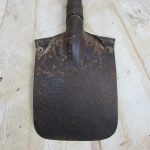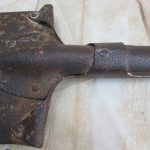 WW1 German Entrenching Tool, field shovel.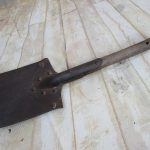 WW1 German Entrenching Tool, field shovel.
£75.00
£75.00
WW1 German Entrenching Tool
Description
Shipping and Delivery
Description
Nice condition German Entrenching Shovel 1898 model.
Original wooden shaft, pitting to the blade of the shovel.
An entrenching tool (U.K.), intrenching tool (U.S.A.), E-tool, or trenching tool is a digging tool used by military forces for a variety of military purposes. Survivalists, campers, hikers and other outdoors groups have found it to be indispensable in field use. Modern entrenching tools are usually collapsible and made using steel, aluminum, or other light metals.
History and development
Entrenching tools go back at least to the times of the Roman Legion who used a type of mattock known as a Dolabra. Julius Caesar, as well as other ancient writers, documented the use of spades and other digging implements as important tools of war. The Roman Legion when on the march would dig a ditch and rampart fortified with mobile stakes around their camps every night where established camps were not available.
Siege tactics throughout history required the digging of fortifications and often mining of walls was attempted, where saps were dug to a wall's foundation, and collapsing the wall was attempted.
In more modern times the siege tactics of the Napoleonic Wars used spades and pickaxes as entrenching tools to dig trenches towards the walls of the fortifications being besieged, to allow men and munitions to get close enough to fire cannons at the walls to open a breach. Being too long and heavy to be transported by individual soldiers, entrenching shovels and spades were normally carried in the supply carts (logistics train) of a military column; only pioneer or engineer troops typically carried spades or shovels as part of their individual equipment. This frequently led to situations in which the infantry did not have access to entrenching equipment when it was needed.[6] As one U.S. army infantry officer noted, "the intrenching tools of an army rarely get up to the front until the exigency for their use has passed."[6]
Entrenching tools, if strongly built, can also be used as ancillary weapons. Some entrenching tool can be even sharpened on one or both sides of the blade to be used as cutting tools or weapons; in fact, when used as such, the tool's sharp, thick edges are strong enough to cut through flesh and bone. During the Second World War, entrenchment tools were used in close quarters combat between German and Soviet forces, notably in the brutal hand-to-hand fighting during the Battle of Stalingrad.