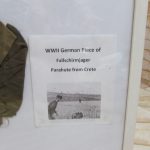 German Fallschirmjager piece of parachute
German Fallschirmjager piece of parachute
£30.00
£30.00
Piece of parachute from German Fallschirmjager.
Description
Shipping and Delivery
Reviews (0)
Description
German Fallschirmjager piece of parachute
An original piece of German Fallschirmjager parachute cloth from Crete. Colour is still very good , this is framed to protect and for display purpose, as this is a silk piece of cloth.
The battle of Crete was fought during WW2 on the Greek island of Crete. It began on the morning of the 20th May 1941, when Nazi Germany began an airborne invasion of Crete. Greek and other Allied forces, along with Cretan civilians , defended the islands.
Fallschirmjager were the paratrooper (German: Fallschirmjäger) branch of the German Luftwaffe before and during World War II. They were the first German paratroopers to be committed in large-scale airborne operations.
Between November and December 1942, the 1st and 3rd Battalions of the 5th Parachute Regiment were flown into Tunisia to protect its airfields and take up defensive positions around the city of Koch during the Allied Operation Torch.[32] It was followed closely by the 11th Parachute Pioneer Battalion under the command of Major Rudolf Witzig. It had the strength of 716 men. It took up defensive positions west of Tunis where it had a series of battles with the advance guard of the Allied spearhead.[33] Parts of the unit had received special training in reconnaissance and intelligence gathering.[33] This intelligence led to the last parachute drop in North Africa.[33] The operation ended up a major failure due to mostly inexperienced and poorly trained pilots.[33] The Fallschirmjäger were dropped too far from their targets. The paras never made it to their targets because many were captured by British patrols as they landed.[34]
On 26 December 1942, the men of Parachute Company of the Brandenburg Regiment were transported by gliders in an operation to destroy bridges and supply routes used by the British.[34] It too was a disaster.[34] Some of the gliders were shot down while flying over enemy lines while others were destroyed while approaching their targets.[34] Most of the paras were killed in the operation.[34]