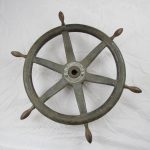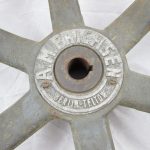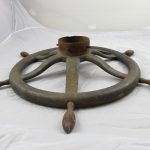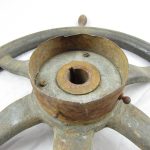 Erichsen Experimental Plant Teltow large machine wheel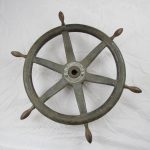 Erichsen Experimental Plant Teltow large machine wheel
£260.00
£260.00
Erichsen Experimental Plant "Teltow", Large Machine Wheel
Description
Shipping and Delivery
Description
Large machine wheel , from the Erichsen Experimental Plant in Teltow , Berlin Germany .
Great piece very heavy steel .overall size is 22 inches in diameter.
Collection only 
Real Viking spirit and the joy of discovery probably inspired the engineer AM Erichsen from Porsgrunn / Norway to set up his own business in Berlin-Reinickendorf. With his first invention, the water-cooled mold, which is still the most widely used casting process in the metal semi-finished product industry, he succeeded in consolidating the young company's economic position. AM Erichsen's next invention – the cupping test – was just as significant. It was the very first sheet metal testing method with which the quality grade of sheets and strips could be determined. This initially patented test method has now been adopted by all industrialized countries within the framework of the International Standard Organization (ISO). How to measure temperature in degrees Celsius or Fahrenheit around the world,the benchmark for sheet metal quality is the ERICHSEN cupping value.
After the turmoil of the war years and the loss of his company, due to the factory being taken over by the Germans during the war years,  AM Erichsen decided to start over in western Germany. His best partner – his son: Dr.-Ing. Per F. Erichsen studied mechanical engineering in Hanover, obtained a diploma at the Hüttenmännisches Institut of the TH Aachen and did his doctorate at the Dortmund Coal Research Institute. Building the company was difficult. Without machines, without tools, without construction drawings – in a factory kitchen at Sundwiger Eisenhütte! But with ideas and determination one had parts manufactured and assembled by oneself. Today there is a modern factory nearby, "Am Iserbach" in Hemer.
Erichsen Experimental Plant Teltow large machine wheel