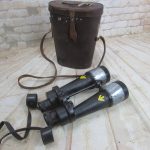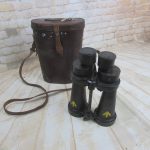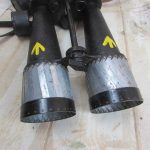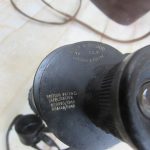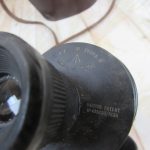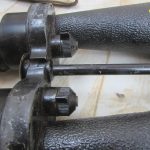 Barr & Stroud CF41 Binoculars with Splash guards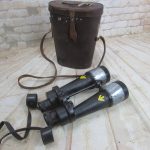 Barr & Stroud CF41 Binoculars with Splash guards
£320.00
£320.00
CF41 Barr & Stroud 7×50 Binoculars with Splash Guards WW2
Description
Shipping and Delivery
Reviews (0)
Description
CF41 Barr & Stroud , 7 x 50 Binoculars with Splash guards
Lovely pair of Binoculars , Barr & Stroud, CF41 Naval Night vision binoculars with patented Splash Guards in there original case.
Optics are good and clear , no fog .
All mechanisms work well inc filter operation and splash guards.
The CF41 entered operation in 1935 as the 1900A patt.
The large yellow arrow was to denote government ownership and were placed there to prevent pilfering.
These are a RARE pair of bino's, especially with the added Slash Guard.
The case is original to the pair and has most of the original leather straps.
There are also leather eyepiece cups to protect .
Barr & Stroud Limited was a pioneering Glasgow optical engineering firm. They played a leading role in the development of modern optics, including rangefinders, for the Royal Navy and for other branches of British Armed Forces during the 20th century. There was a non-military arm of the company which made medical equipment, like photocoagulators and electronic filters, some of which were used by the BBC.
History
Archibald Barr and William Stroud had been associated from as early as 1888 when the two men were professors of, respectively, engineering and physics at the Yorkshire College (now the University of Leeds). In 1891 they were approached by the Admiralty to submit a design for a short-base rangefinder for trial. By this time, Barr had returned to Scotland and taken the post of Regius Professor of Civil Engineering and Mechanics at the University of Glasgow. Although apart, Barr and Stroud kept in close touch and in 1892 they were awarded with a contract for six of their rangefinders.
In 1895, Barr & Stroud's Patents Ltd was renting workshop space near the university, at 250 Byres Road, Glasgow, but demand for the product soon necessitated a move to larger premises in Ashton Lane, Glasgow. By 1904, 100 men were working for the company in a new purpose-built factory in Anniesland, Shortly thereafter, in 1909, Stroud resigned his chair at University of Leeds and moved to Glasgow to work for the company full-time. Barr, in spite of a distinguished teaching career at Glasgow University, followed his example in 1913. Together they formed Barr & Stroud Ltd. that year.[2]