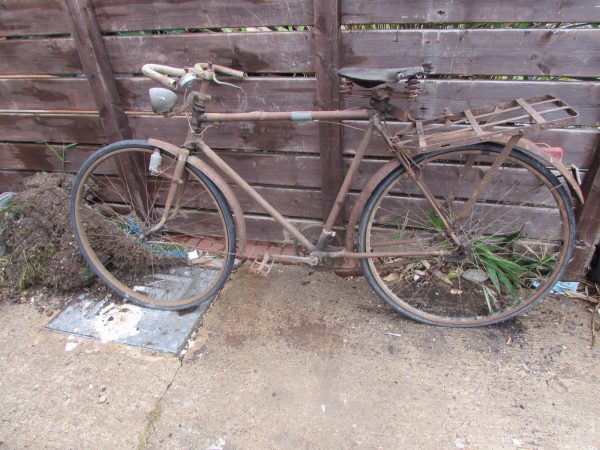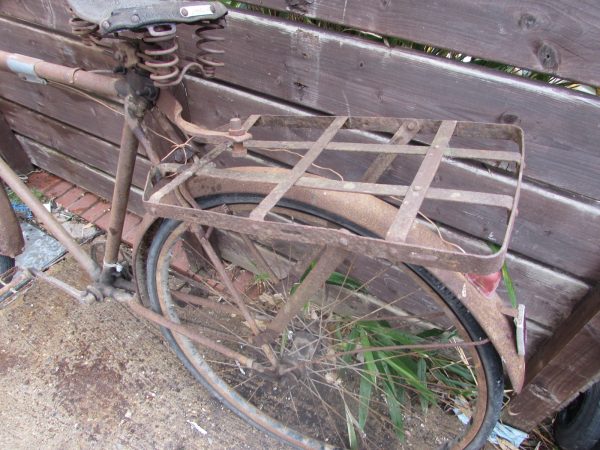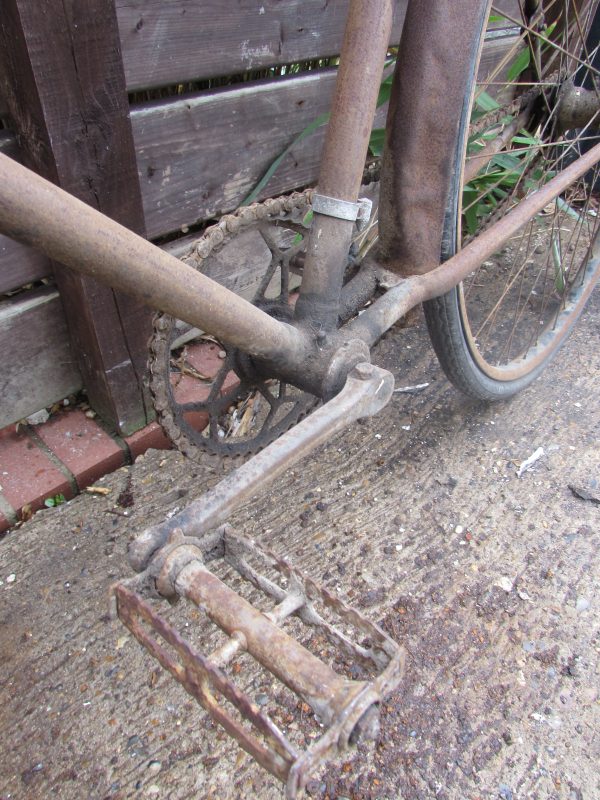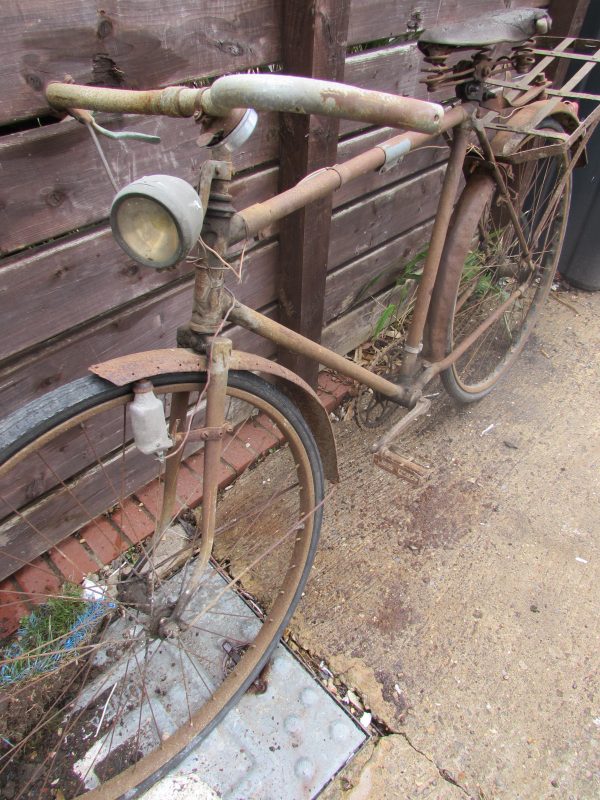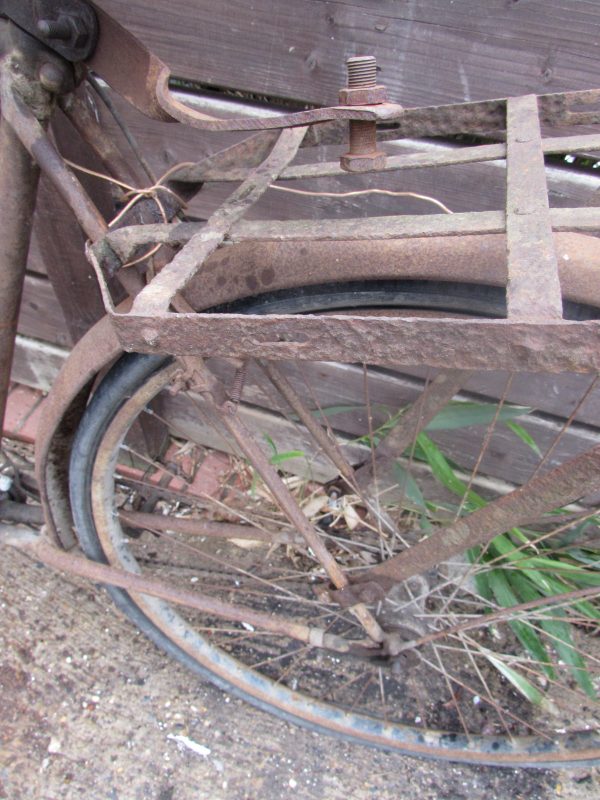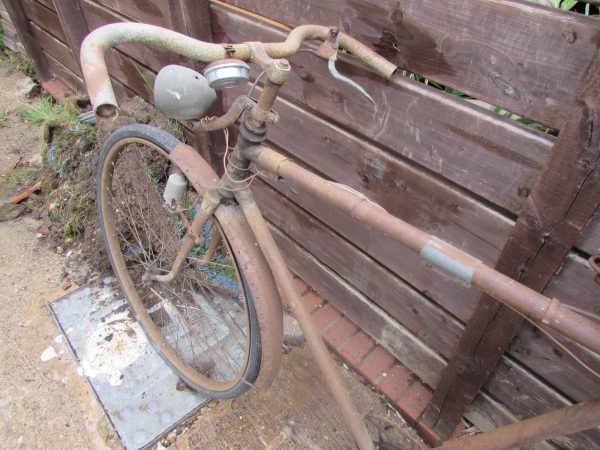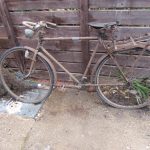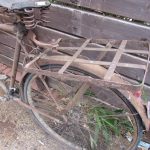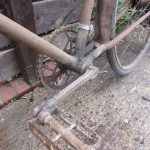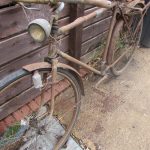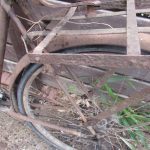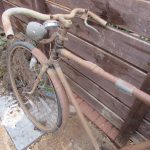 WW11 Wehrmacht Bicycle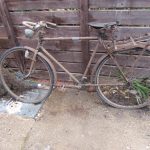 WW11 Wehrmacht Bicycle
£375.00
£375.00
WW1 Wehrmacht Bicycle ( Barn Find)
Description
Shipping and Delivery
Description
WW11 Wehrmacht Bicycle (Barn Find)
Yes this is a Barn Find , German Wehrmacht Bicycle obviously its all there but needs some TLC, Has the original seat possibly by the looks and a large rear rack.
This bike comes with one lever brake for the back brakes,  both tyres are flat but i think might be the original, wheel arches and frame have some paintwork still showing (see photo's). There is the centre frame bracket i think for the Ammo box , Dynamo lighting
I don't think the bell is original tho .
Large item, postage will have to paid for or collection
The Wehrmacht (German pronunciation: [ˈveːɐ̯maxt] (
listen), lit. 'defence force') was the unified armed forces of Nazi Germany from 1935 to 1945. It consisted of the Heer (army), the Kriegsmarine (navy) and the Luftwaffe (air force). The designation "Wehrmacht" replaced the previously used term Reichswehr and was the manifestation of the Nazi regime's efforts to rearm Germany to a greater extent than the Treaty of Versailles permitted.[11]
After the Nazi rise to power in 1933, one of Adolf Hitler's most overt and audacious moves was to establish the Wehrmacht, a modern offensively-capable armed force, fulfilling the Nazi régime's long-term goals of regaining lost territory as well as gaining new territory and dominating its neighbours. This required the reinstatement of conscription and massive investment and defense spending on the arms industry.[12]
The first bicycles were introduced into the armed forces of several nations in the late 19th century; by the time of the start of World War I, all combatants were using them.[1] The German Army had 36 independent companies of bicycle infantry, a battalion of cyclists attached to every cavalry division, and an additional 10 reserve bicycle companies and 17 replacement crews. The Italian Army's Bersaglieri troops were the first to use folding bikes. During World War II bicycles were introduced to paratroopers as a means to provide them with transportation following the landing.[2] The U.S. also used them as general light transport, and for messenger duties.[3] Separate units of bicycle infantry existed in armies of many nations until the end of 20th century; it was not until 2003 that the Swiss Army reformed its last three Bicycle Infantry Regiments. In the late 1990s and early 2000s, there was a resurgence in the testing of all terrain and folding bikes for use by infantry in battle and patrolling cities.[4]
WW11 Wehrmacht Bicycle (Barn Find)