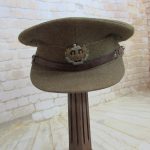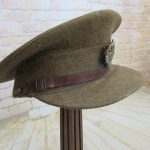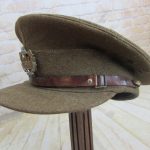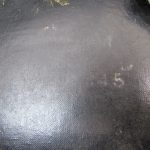 WW II British army W/O peaked Cap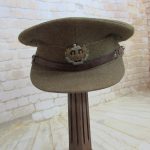 WW II British army W/O peaked Cap
£105.00
£105.00
WWII British Army W/O Peaked Cap,Essex Reg
Description
Shipping and Delivery
Description
WW II British army W/O peaked Cap. Essex Reg
1945 Dated Warrant Officers Peaked cap. Size 7 1/4. Made by Berston & Sons Ltd ,
Broad Arrow marked.
Very clean condition, comes with original leather strap and its Essex regiment cap badge..
Normal GS buttons to side.
WW II British army W/O peaked Cap. Essex Reg
Warrant officer (WO) is a rank or category of ranks in the armed forces of many countries. Depending on the country, service, or historical context, warrant officers are sometimes classified as the most junior of the commissioned ranks, the most senior of the non-commissioned officer (NCO) ranks, or in a separate category of their own. Warrant officer ranks are especially prominent in the militaries of Commonwealth nations and the United States.
In the British Army, there are two warrant ranks, warrant officer class two (WO2) and warrant officer class one (WO1), the latter being the senior of the two. These ranks were previously abbreviated as WOII and WOI (using Roman instead of Arabic numerals). "Warrant officer first class" or "second class" is incorrect. The rank immediately below WO2 is staff sergeant (or colour sergeant).[2] From 1938 to 1940 there was a WOIII platoon sergeant major rank.[27]
In March 2015, the new appointment of Army Sergeant Major was created, though the holder is not in fact a warrant officer but a commissioned officer holding the rank of captain.[28][29] The creation of the appointment of command sergeant major was announced in 2009.[30]
In Commonwealth countries, warrant officers have usually been included alongside NCOs and enlisted personnel in a category called other ranks (ORs), which is equivalent to the US "E" category (i.e. there is no separate "W" category in these particular services). In Commonwealth services, warrant officers rank between chief petty officer and sub-lieutenant in the navy, between staff sergeant and second lieutenant in the army and between flight sergeant and pilot officer in the air force.