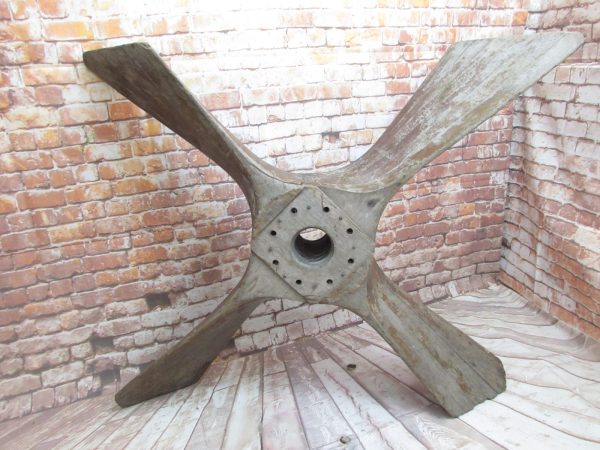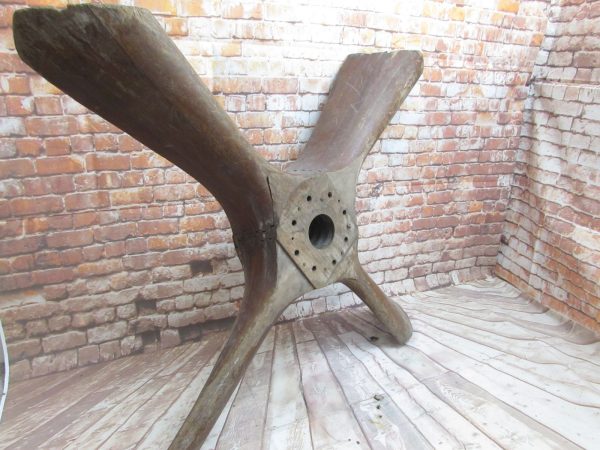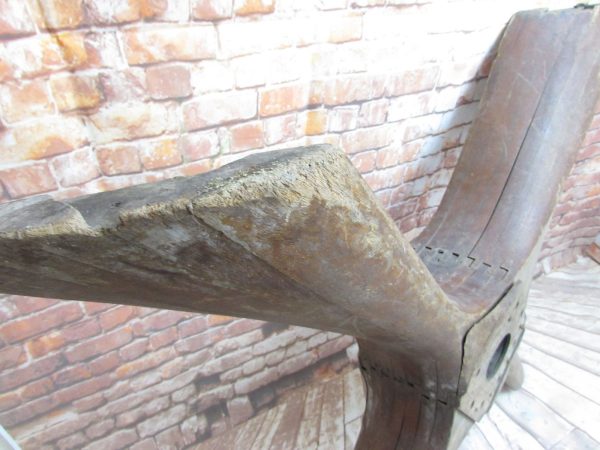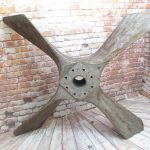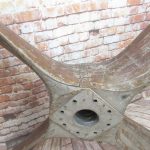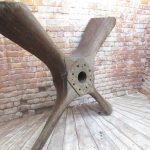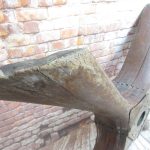 Royal Aircraft Factory B.E 2c Propeller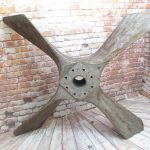 Royal Aircraft Factory B.E 2c Propeller
£1,900.00
£1,900.00
4 blade propeller piece outer fins cut – FREE SHIPPING
Description
Shipping and Delivery
Reviews (0)
Description
Royal Aircraft Factory B.E 2c Propeller.
Lovely 4 blade propeller piece outer fins cut.
This is a barn find from La Boiselle France, hence condition.
The Royal Aircraft Factory B.E.2 was a British single-engine tractor two-seat biplane designed and developed at the Royal Aircraft Factory. Most production aircraft were constructed under contract by various private companies, both established aircraft manufacturers and firms that had not previously built aircraft. Around 3,500 were manufactured in all.
Early versions of the B.E.2 entered squadron service with the Royal Flying Corps in 1912; the type continued to serve throughout the First World War. It was initially used as a front-line reconnaissance aircraft and light bomber; modified as a single-seater it proved effective as a night fighter, destroying several German airships.
By late 1915, the B.E.2 was proving inadequate in defending itself against German fighters such as the then-new Fokker Eindecker, leading to increased losses during the period known as the Fokker Scourge. Although by now obsolete, it had to remain on the front line while suitable replacements were designed, tested and brought into service. Following its belated withdrawal from operations, the type served in various second-line capacities, seeing use as a trainer and communications aircraft, as well as performing anti-submarine coastal patrol duties.
The B.E.2 has always been a subject of controversy, both at the time and in later historical assessment. From the B.E.2c variant on it had been carefully adapted to be "inherently stable"; this feature was considered helpful in its artillery observation and aerial photography duties, most of which were assigned to the pilot, who was able to fly without constant attention to his flight controls. Despite a tendency to swing on takeoff and a reputation for spinning, the type had a relatively low accident rate. The stability of the type was however achieved at the expense of heavy controls, making rapid manoeuvring difficult. The observer, often not carried because of the B.E.'s poor payload, occupied the front seat, where he had a limited field of fire for his gun.
Royal Aircraft Factory B.E 2c Propeller
At this time, Antiqurio ships to locations within the United Kingdom mainland. Items can be shipped worldwide by prior agreement please contact us. The risk of loss and title for all items ordered on this website pass to you when the items is delivered to the shipping carrier. We are unable to calculate shipping automatically for multiple items when shipping internationally please contact us by email if you wish to purchase more than one item and live outside of the UK; we are working to resolve this
International
Customs and import duties may be applied to International orders when the shipment reaches its destination. This is not imposed by Antiqurio and these charges are the responsibility of the recipient of your order and are likely to vary from country to country. Contact your local customs office for details.
Shipping laws are different in each country. It is your responsibility to check with your Customs office to verify whether the country to which you are shipping permits the shipment of your products. Antiqurio is not responsible for any direct, indirect, punitive, or consequential damages that arise from improper international shipping practices.