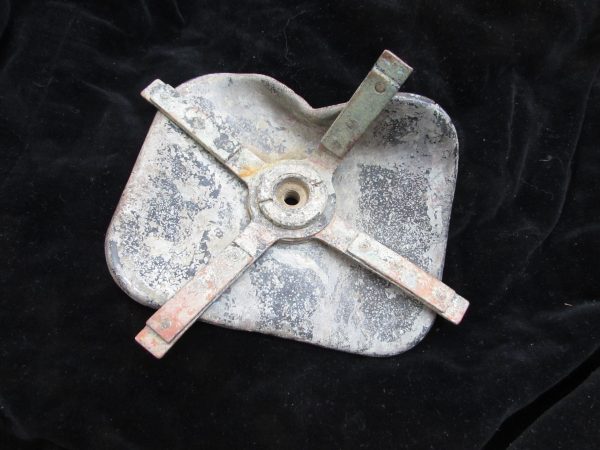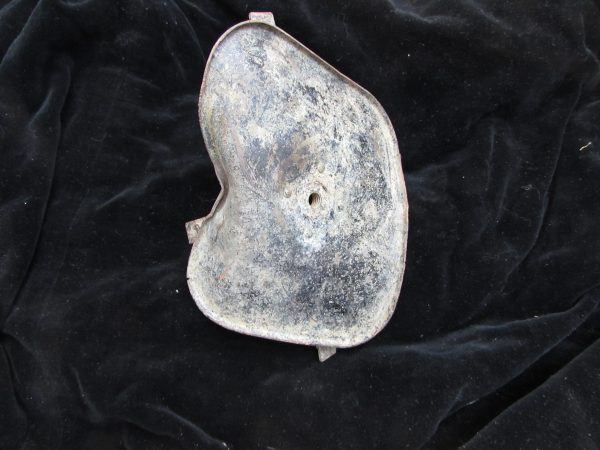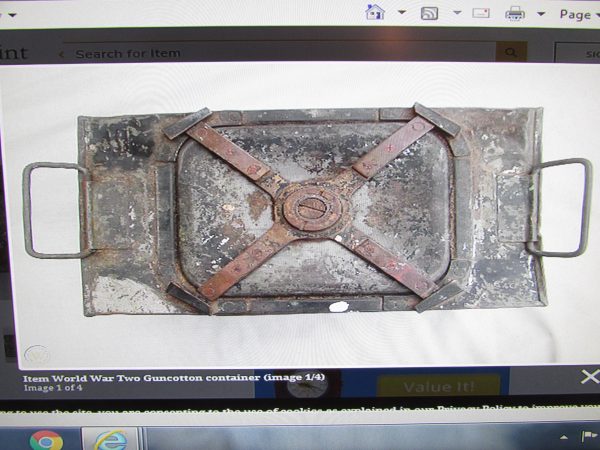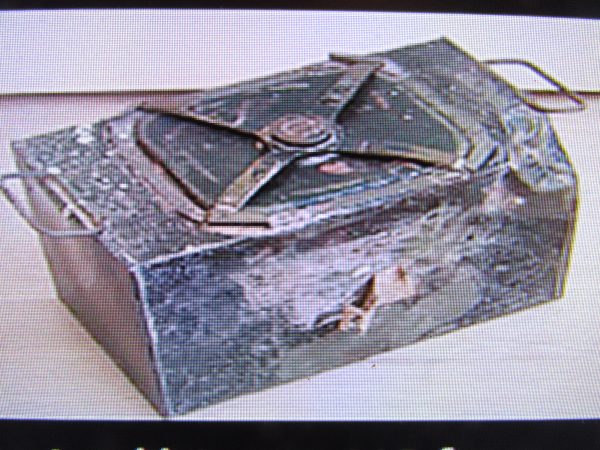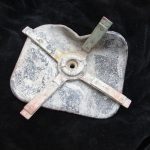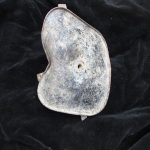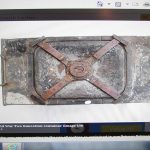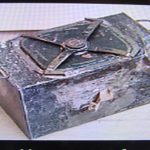 Relic S.O.E. Lid from Dropped Gun Cotton Tin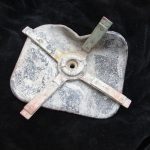 Relic S.O.E. Lid from Dropped Gun Cotton Tin
£58.00
£58.00
S.O.E. Gun Cotton Tin Lid
Description
Shipping and Delivery
Reviews (0)
Description
Relic S.O.E. Lid from Dropped Gun Cotton Tin
Relic condition , Gun Cotton tin lid from a dropped container, found in a field in Northern France. Very Scarce item , original piece. These containers contained gun cotton in slab form. This item is made of copper that has been plated then blackened.
These types of containers were used by S.O.E. operatives and were subsequently  dropped with arms into undesignated areas.
The Special Operations Executive (S.O.E) was a secret British World War II organisation. It was officially formed on 22 July 1940 under Minister of Economic Warfare Hugh Dalton, from the amalgamation of three existing secret organisations. Its purpose was to conduct espionage, sabotage and reconnaissance in occupied Europe (and later, also in occupied Southeast Asia) against the Axis powers, and to aid local resistance movements.
Few people were aware of S.O.E's existence. Those who were part of it or liaised with it were sometimes referred to as the "Baker Street Irregulars", after the location of its London headquarters. It was also known as "Churchill's Secret Army" or the "Ministry of Ungentlemanly Warfare". Its various branches, and sometimes the organisation as a whole, were concealed for security purposes behind names such as the "Joint Technical Board" or the "Inter-Service Research Bureau", or fictitious branches of the Air Ministry, Admiralty or War Office.
S.O.E operated in all territories occupied or attacked by the Axis forces, except where demarcation lines were agreed with Britain's principal Allies (the United States and the Soviet Union). It also made use of neutral territory on occasion or made plans and preparations in case neutral countries were attacked by the Axis. The organisation directly employed or controlled more than 13,000 people, about 3,200 of whom were women.
Size is 6.5 x 5.5in
Relic S.O.E. Lid from Dropped Gun Cotton Tin
At this time, Antiqurio ships to locations within the United Kingdom mainland. Items can be shipped worldwide by prior agreement please contact us. The risk of loss and title for all items ordered on this website pass to you when the items is delivered to the shipping carrier. We are unable to calculate shipping automatically for multiple items when shipping internationally please contact us by email if you wish to purchase more than one item and live outside of the UK; we are working to resolve this
International
Customs and import duties may be applied to International orders when the shipment reaches its destination. This is not imposed by Antiqurio and these charges are the responsibility of the recipient of your order and are likely to vary from country to country. Contact your local customs office for details.
Shipping laws are different in each country. It is your responsibility to check with your Customs office to verify whether the country to which you are shipping permits the shipment of your products. Antiqurio is not responsible for any direct, indirect, punitive, or consequential damages that arise from improper international shipping practices.