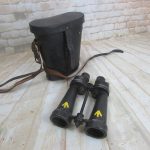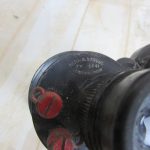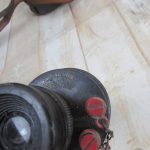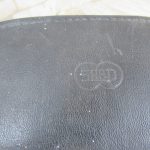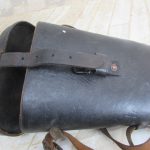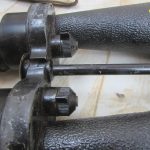 Barr & Stroud CF 41, 7 x 50 Naval Binoculars & Case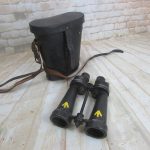 Barr & Stroud CF 41, 7 x 50 Naval Binoculars & Case
£190.00
£190.00
WW11 Barr & Stroud CF 41 Binoculars
Description
Shipping and Delivery
Reviews (0)
Description
Lovely pair of Barr & Stroud Naval Binoculars with SARD case.
CF41 Glasgow & London.
7 x 50 , very clean and sharp lenses no fog .
A.F. 1900A , serial no 77974.
The mechanisms all work well including the filter operations and eye pieces.
The CF 41 was the British Naval binocular during WW2 , they came into service in 1935 as the 1900A patt
The large yellow arrows on the barrels on the binocular denote government ownership and were placed there to prevent pilfering.
Barr & Stroud CF 41, 7 x 50 Naval Binoculars & Case
Barr and Stroud, founded in 1888 by Archibald Barr and William Stroud to develop and manufacture
optical rangefinders, produced their first binoculars in 1919.
During the 1930s the company became the preferred supplier of binoculars to the Admiralty, a position
it maintained until the mid-1950s.
Increased competition from the Far East during the 1960s, coupled with the failure to win any
significant new military contracts, led to Barr and Stroud ceasing binocular production in early 1972.
Serial numbers for binoculars were allocated in strict chronological sequence, irrespective of model.
Barr & Stroud Limited was a pioneering Glasgow optical engineering firm. They played a leading role in the development of modern optics, including rangefinders, for the Royal Navy and for other branches of British Armed Forces during the 20th century. There was a non-military arm of the company which made medical equipment, like photocoagulators and electronic filters, some of which were used by the BBC. The company and its intellectual property passed through Pilkington group to Thales Optronics. The Barr and Stroud name was sold on to an importer of optical equipment who use the trademarked name for a line of binoculars and similar instruments.
Barr & Stroud CF 41, 7 x 50 Naval Binoculars & Case