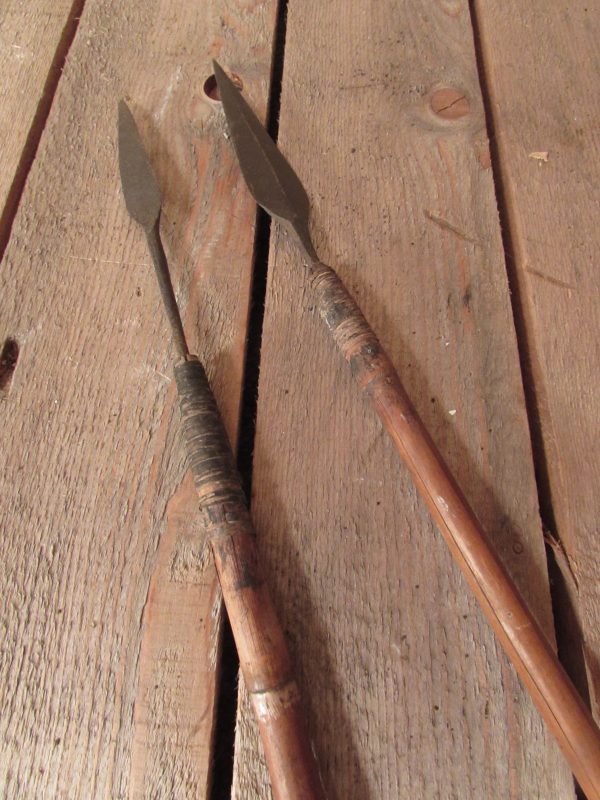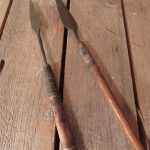 Hadendoa Arrows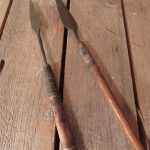 £180.00
Pair of "Fuzzy Wuzzy" Hadendoa spears
Description
Shipping and Delivery
Reviews (0)
Description
Pair of "Fuzzy Wuzzy" Hadendoa Arrows
Lovely pair of Hadendoa arrows (19th century), Sudan expeditionary force 1896-1898. Length with original shafts: 51 inches and 47 inches. Nice twisted shaft head.
Background
"Fuzzy-Wuzzy" was the term used by British soldiers for Beja warriors who were supporting the Mahdi of Sudan in the Mahdist War.
The Beja people were one of several broad multi-tribal groupings supporting the Mahdi, and were divided into three tribes, Haddendowa, Halanga , Amarar beni Aamer Habab tribe and Bishariyyin. All of these are semi-nomadic and inhabit the Sudan's Red Sea Hills, Libyan Desert, and southern Egypt. The Beja provided a large number of warriors to the Mahdist forces. They were armed with swords and spears and some of them carried breech-loaded rifles which had been captured from the Egyptian forces, and some of them had acquired military experience in the Egyptian army.
The poem
Kipling's poem "Fuzzy-Wuzzy" praises the Hadendoa for their martial prowess, because "for all the odds agin' you, Fuzzy-Wuz, you broke the square". This could refer to either or both historical battles between the British and Mahdist forces where British infantry squares were broken. The first was at the Battle of Tamai, on 13 March 1884, and the second was on 17 January 1885[1] during the Battle of Abu Klea. Kipling's narrator, an infantry soldier, speaks in admiring terms of the "Fuzzy-wuzzys'", praising their bravery which, although insufficient to defeat the British, did at least enable them to boast of having "broken the square"—an achievement which few other British foes could claim.
Writing in The Atlantic in June 2002, Christopher Hitchens noted "[Yet] where Kipling excelled—and where he most deserves praise and respect—was in enjoining the British to avoid the very hubris that he had helped to inspire in them. His 'Recessional' is only the best-known and most hauntingly written of many such second thoughts. … There is also 'The Lesson', a poem designed to rub in the experience of defeat in Africa, and (though it is abysmal as poetry) 'Fuzzy-Wuzzy', a tribute to the fighting qualities of the Sudanese."[2]
At this time, Antiqurio ships to locations within the United Kingdom mainland. Items can be shipped worldwide by prior agreement please contact us. The risk of loss and title for all items ordered on this website pass to you when the items is delivered to the shipping carrier. We are unable to calculate shipping automatically for multiple items when shipping internationally please contact us by email if you wish to purchase more than one item and live outside of the UK; we are working to resolve this
International
Customs and import duties may be applied to International orders when the shipment reaches its destination. This is not imposed by Antiqurio and these charges are the responsibility of the recipient of your order and are likely to vary from country to country. Contact your local customs office for details.
Shipping laws are different in each country. It is your responsibility to check with your Customs office to verify whether the country to which you are shipping permits the shipment of your products. Antiqurio is not responsible for any direct, indirect, punitive, or consequential damages that arise from improper international shipping practices.