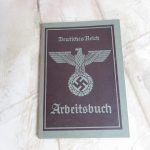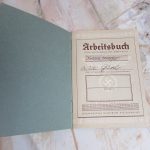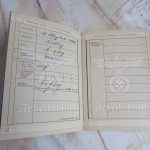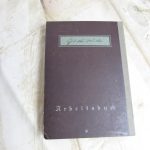 German Reich, Arbeitsbuch, 2nd Style.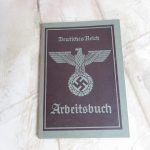 German Reich, Arbeitsbuch, 2nd Style.
£22.00
£22.00
German Third Reich Employment Book
Description
Shipping and Delivery
Reviews (0)
Description
The Arbeitsbuch was a result of the Labour Law of Feb 1935 that required labour registration and the use of the appropriate document. The purpose of the Arbeitsbuch was to document the work history of each German citizen . During the twelve years of the Third Reich the Arbeitsbuch came in three editions . The main difference were the variations of the cover. The 1st style came with a Weimar eagle and small swastikas on all four corners and the words Deutsches Reich and Arbeitsbuch in the old German Fraktur lettering. This is the second style with the swastikas were removed and the Nazi eagle replaced the other one. The document was for German citizens only, foreigners who worked in the Reich had to carry a similar book which was printed on different colour paper and which contained a photo.
An employment record book is an official personal document recording the employment status of its owner over time. Some European countries issue such documents, others did earlier. The first employment record books are said to have been issued in German Reich in 1892 in the mining industry.
German: Arbeitsbuch, literally "labour book".
The regulation for Arbeitsbuchs was issued on 24 June 1892 for the mining industry. The obligatory identification data required by the regulation included:
The full name of the owner
Date and location of his birth
Name and the last place of the owner's father or guardian
Owner's signature
All this data should be registered with a local police office, thus turning an Arbeitsbuch into a sort of internal passport identity document.
This is a really good clean example.