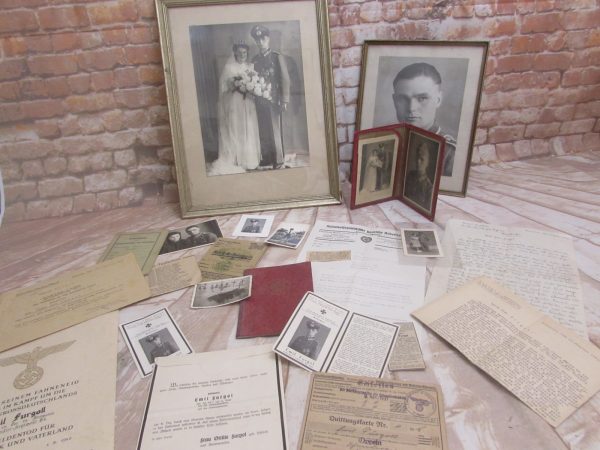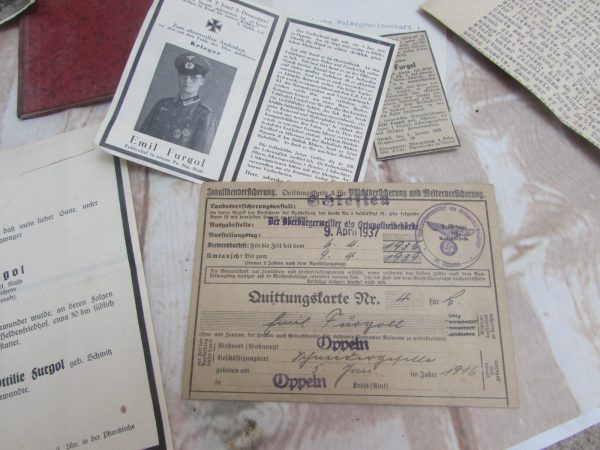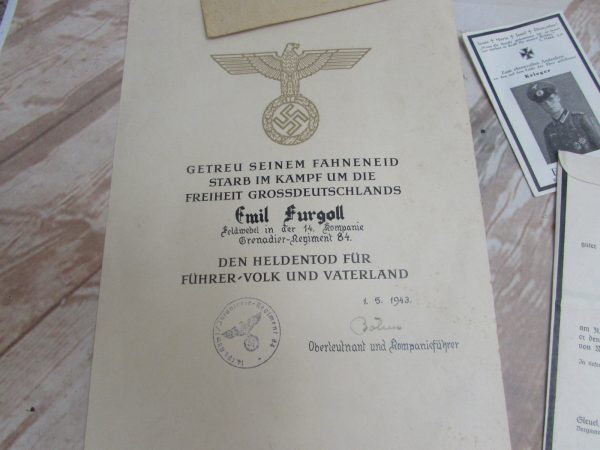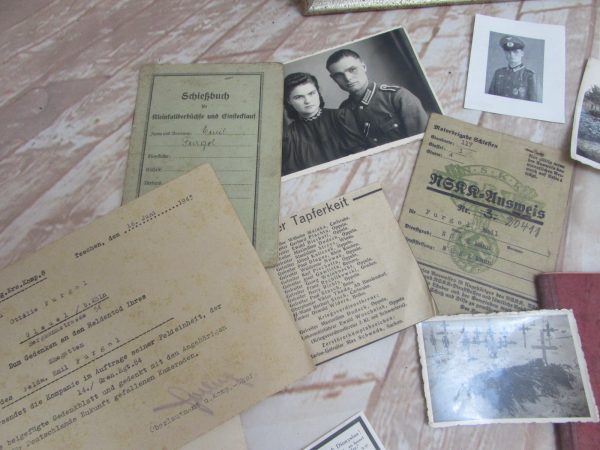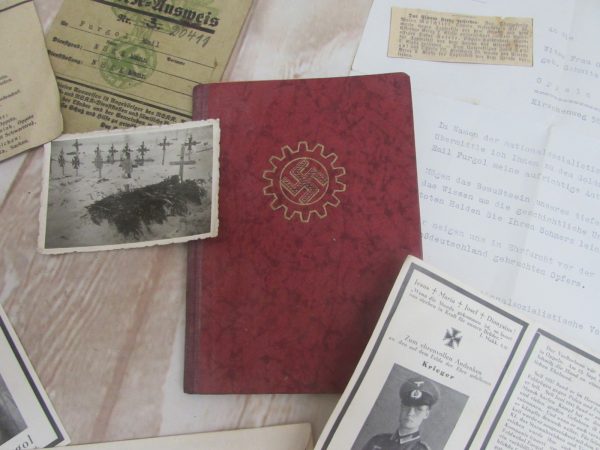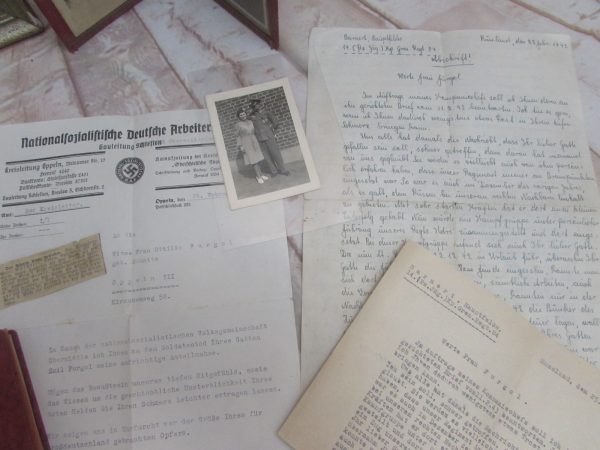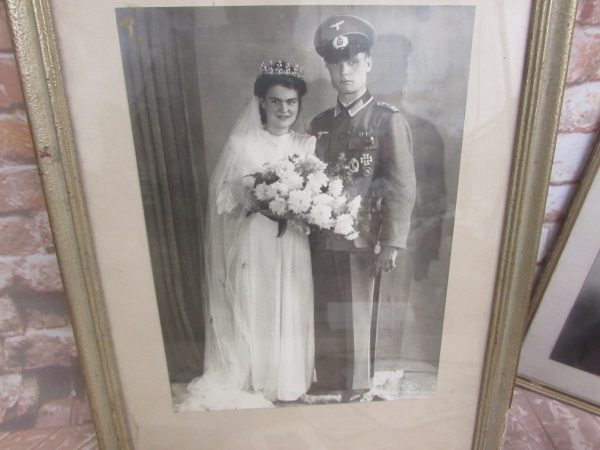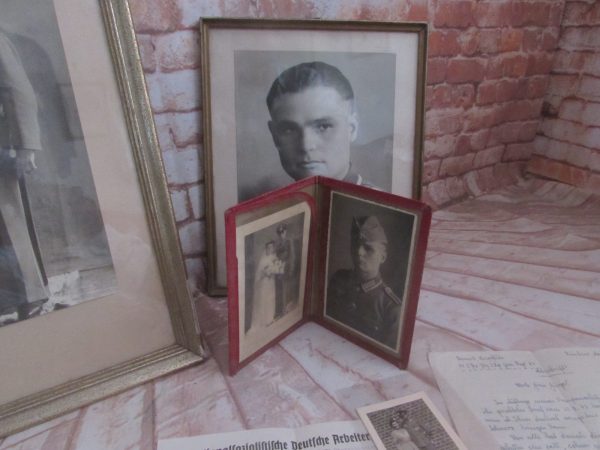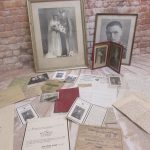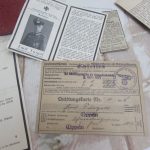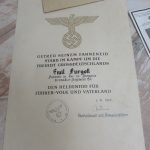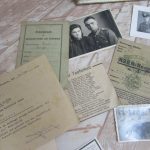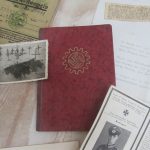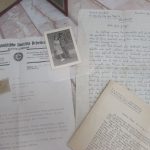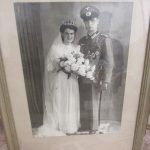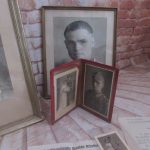 German Eastern Front Photo's and Paperwork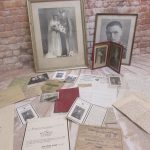 German Eastern Front Photo's and Paperwork
£395.00
£395.00
German Soldiers, Eastern Front Photo's & paperwork
Description
Shipping and Delivery
Reviews (0)
Description
Large collection of photo's and paperwork from Emil Furgol German army,
Born 05-01-1916,Oppelin,Germany,Married Ottille on 12-09-1942,
Member of the German working front since 01-10-1937,
Soldier, Sargent in 14th Company Grenadier (Anti Tank Comp) reg 84. Disability insurance (small brown card with blue stamps) valid from 09-04-37.
Small green book (shooting record and training)
Small brown book with green stamp to front membership ID to NSKK.
Red book with quote from Hitler.
He was of slim statue, grey eyes , height 1/65m, dark blonde hair, Professional Tailor,
Died heroic death for leader , nation and country , died from a grenade on 31-12-1942, buried 30k south of Rschew, (Rzchev) Soviet Union.
During the Battle of Rzchev, 1942-43 otherwise known as the Meat Grinder of the Eastern Front, this was due to the amount of overwhelming losses of the Russian troops,
This collection comes with many photo's some framed ,and also picture of grave.
There is also a letter from the commanding officer to this mans wife telling her of his death.
At this time, Antiqurio ships to locations within the United Kingdom mainland. Items can be shipped worldwide by prior agreement please contact us. The risk of loss and title for all items ordered on this website pass to you when the items is delivered to the shipping carrier. We are unable to calculate shipping automatically for multiple items when shipping internationally please contact us by email if you wish to purchase more than one item and live outside of the UK; we are working to resolve this
International
Customs and import duties may be applied to International orders when the shipment reaches its destination. This is not imposed by Antiqurio and these charges are the responsibility of the recipient of your order and are likely to vary from country to country. Contact your local customs office for details.
Shipping laws are different in each country. It is your responsibility to check with your Customs office to verify whether the country to which you are shipping permits the shipment of your products. Antiqurio is not responsible for any direct, indirect, punitive, or consequential damages that arise from improper international shipping practices.