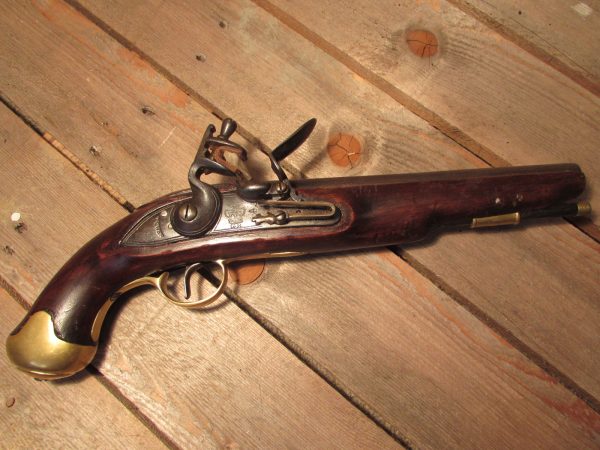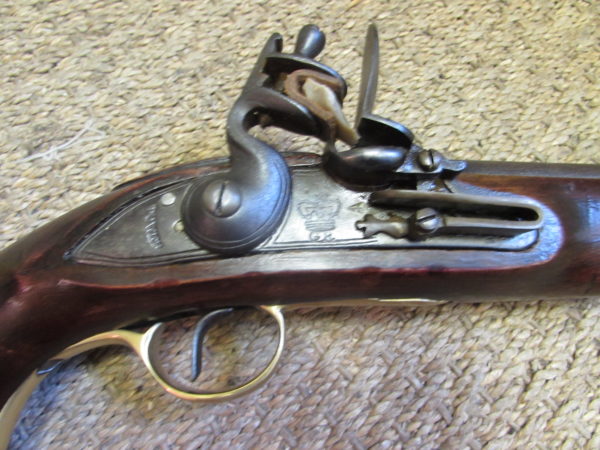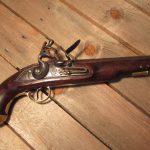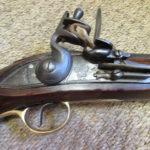 Flintlock Pistol 1786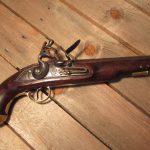 Flintlock Pistol 1786
£2,800.00
£2,800.00
1786 Light Dragoon Flintlock Pistol (Deact)
Tower Marked
George III Cypher
Fine condition
Description
Shipping and Delivery
Description
Flintlock Pistol 1786 deactivated.
George III Cypher
Tower marked
1780's – 18-12 period. English Light Pattern Dragoon Flintlock Pistol 1786, Tower Marked. Regulation Pattern, molded and carved from English walnut. Full stock with a raised beaver tail apron, at the barrel tong and molded raised carvings around the lock and barrel. Full brass hardware/mounts of English Light Dragoon pattern. A single barrel form ramrod pipe, a flat S side plate, secured by 2 iron side bolts. Flat hazelnut – finial trigger guard and a screw fastened butt cap with short side terminals. Round 66 caliber, reg pattern pin fastened. Very clear London Tower proof mark. GR with crown to face of lock plate. Flat thread engraved lock plated with its matching reinforced hammer oak leaf finial frizzen spring and its rounded frizzen with curled tail. This item has been fully restored at some point in its past so the woodwork has lost most of its patination. Rammrod in my opinion is not the original as should be steel and not wood. This is a really great example of a Napolionic war period English Light Dragoon Pattern Flintlock pistol. Overall length is 15.5 inches.
During the Seven Years War there was necessity of a pattern pistol specifically for the Light Dragoon Regiments of the British Army.
Introduced in the 1760s, the Light Dragoon pistol graced of holsters of the brave troopers of the 16th and 17th Light Dragoons.
Flintlock is a general term for any firearm that uses a flint striking ignition mechanism. The term may also apply to a particular form of the mechanism itself, also known as the true flintlock, that was introduced in the early 17th century, and rapidly replaced earlier firearm-ignition technologies, such as the matchlock, the wheellock, and the earlier flintlock mechanisms.
The true flintlock continued to be in common use for over two centuries, replaced by percussion cap and, later, the cartridge-based systems, early-to-mid 19th century. Although long superseded by modern firearms, flintlock weapons enjoy continuing popularity with black-powder shooting enthusiasts.
Flintlock Pistol 1786
Flintlock weapons were commonly used until the mid 19th century, when they were replaced by percussion lock systems. Even though they have long been considered obsolete, flintlock weapons continue to be produced today by manufacturers such as Pedersoli, Euroarms, and Armi Sport. Not only are these weapons used by modern re-enactors, but they are also used for hunting, as many U.S. states have dedicated hunting seasons for black-powder weapons, which includes both flintlock and percussion lock weapons.
At this time, Antiqurio ships to locations within the United Kingdom mainland. Items can be shipped worldwide by prior agreement please contact us. The risk of loss and title for all items ordered on this website pass to you when the items is delivered to the shipping carrier. We are unable to calculate shipping automatically for multiple items when shipping internationally please contact us by email if you wish to purchase more than one item and live outside of the UK; we are working to resolve this
International
Customs and import duties may be applied to International orders when the shipment reaches its destination. This is not imposed by Antiqurio and these charges are the responsibility of the recipient of your order and are likely to vary from country to country. Contact your local customs office for details.
Shipping laws are different in each country. It is your responsibility to check with your Customs office to verify whether the country to which you are shipping permits the shipment of your products. Antiqurio is not responsible for any direct, indirect, punitive, or consequential damages that arise from improper international shipping practices.