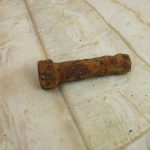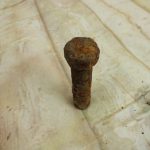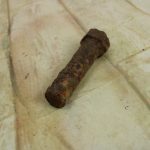 British Mark 5 Tank Bolt , from Le Hamel 1918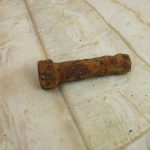 British Mark 5 Tank Bolt , from Le Hamel 1918
£40.00
£40.00
British Mark 5 Tank bolt ,relic from Le Hamel 1918.
Description
Shipping and Delivery
Reviews (0)
Description
Large relic bolt recovered from a British Mark 5 Tank destroyed during the Battle of Le Hamel on the 4th July 1918, Australian and American Offensive.
This piece is a RARE find from the Battlefield and from the Somme area of Le Hamel, 1918. It is very hard to find tank parts especially from the battlefield areas. This bolt and other pieces were recovered from  a dig on a blown up Mk5 Tank in 2015. This was destroyed in this Australian and American offensive of 1918.
Size is 3.5 inch