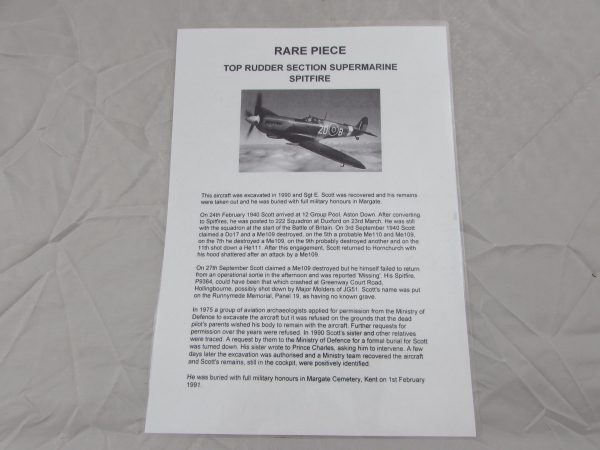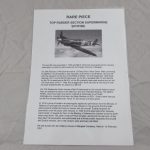 Battle of Britain Spitfire Top Rudder Section Relic
Battle of Britain Spitfire Top Rudder Section Relic
£545.00
£545.00
Battle of Britain Spitfire Top Rudder section.Relic
Description
Shipping and Delivery
Description
Battle of Britain Spitfire Top Rudder Section Relic
Top Rudder section from a Super marine Spitfire, no, P9364.
This aircraft was excavated in 1990 and Sgt E. Scott was recovered and his remains were buried with full military honors in Margate.
On the 24th Feb 1940 Scott arrived at 12 Group pool, Aston Camp, he was posted to 222 squadron at Duxford on 23rd March. At the start of the Battle of Britain he was still with the squadron. On the 3rd of September 1940 Scott claimed a Do 17 and a Me109, on the 9th he destroyed another, on the 11th he shot down a He111. After this engagement, Scott returned to Hornchurch with his hood shattered after an attack on a Me 109 .
On the 27th September Scott claimed a Me109 destroyed but he himself failed to return from the operational sortie so was reported "Missing" that afternoon. His Spitfire P9364, possibly crashed at Greenway Court Road , Hollingbourne , possibly shot down by Major Molders of JG51.
Finally after many years his aircraft and him were finally excavated and he was finally put to rest.
Size 24 " length, 9 " width
RARE Piece. and final piece from a private collection
Battle of Britain Spitfire Rudder Section
The Supermarine Spitfire is a British single-seat fighter aircraft that was used by the Royal Air Force and other Allied countries before, during, and after World War II. Many variants of the Spitfire were built, using several wing configurations, and it was produced in greater numbers than any other British aircraft.  It was also the only British fighter produced continuously throughout the war. The Spitfire continues to be popular among enthusiasts; around 70 remain airworthy, and many more are static exhibits in aviation museums throughout the world.
The Spitfire was designed as a short-range, high-performance interceptor aircraft by R. J. Mitchell, chief designer at Supermarine Aviation Works, which operated as a subsidiary of Vickers-Armstrong from 1928. Mitchell pushed the Spitfire's distinctive elliptical wing with cutting-edge sunken rivets (designed by Beverley Shenstone)[4] to have the thinnest possible cross-section, helping give the aircraft a higher top speed than several contemporary fighters, including the Hawker Hurricane. Mitchell continued to refine the design until his death in 1937, whereupon his colleague Joseph Smith took over as chief designer, overseeing the Spitfire's development throughout its multitude of variants.