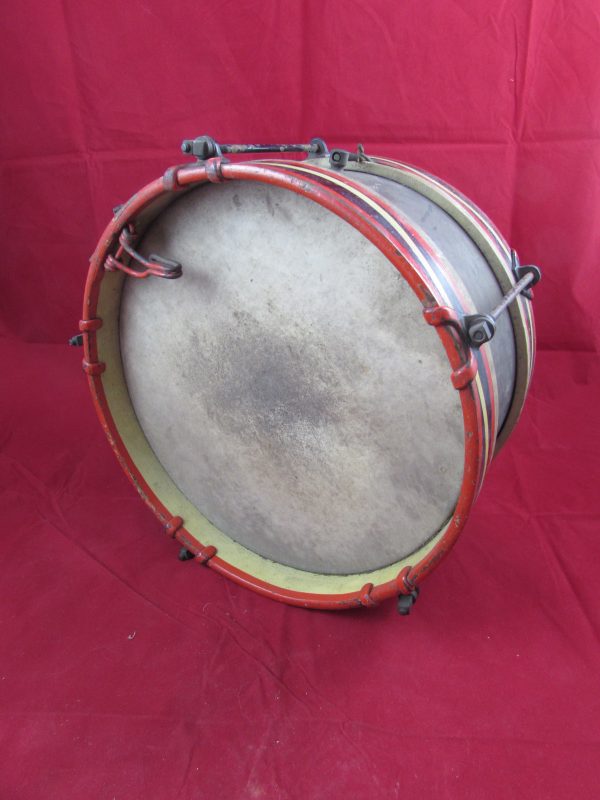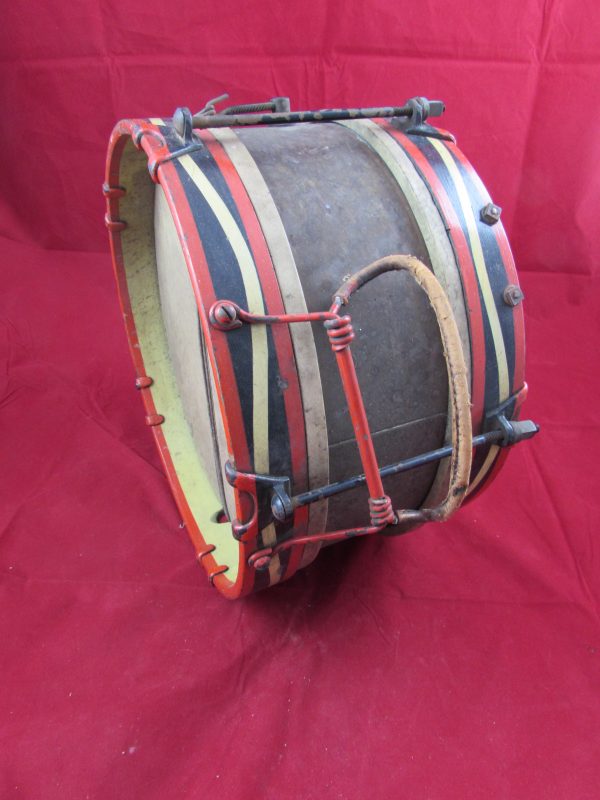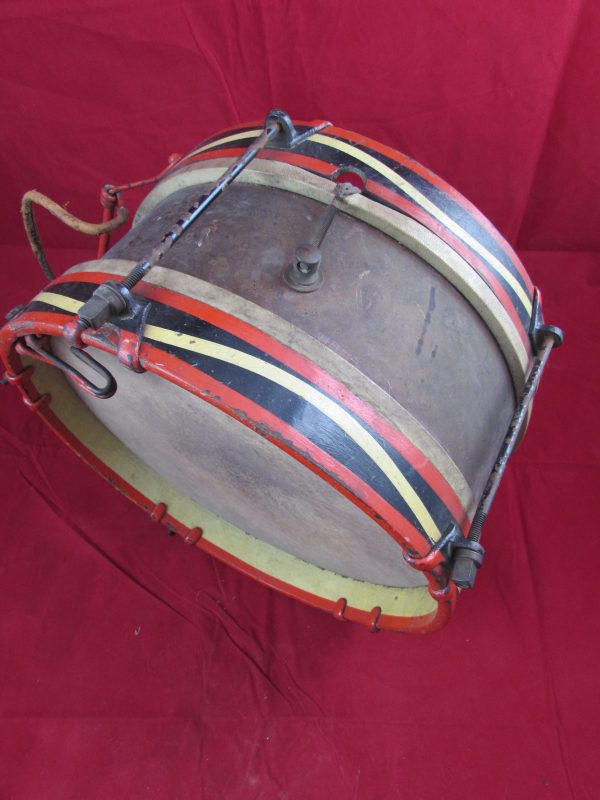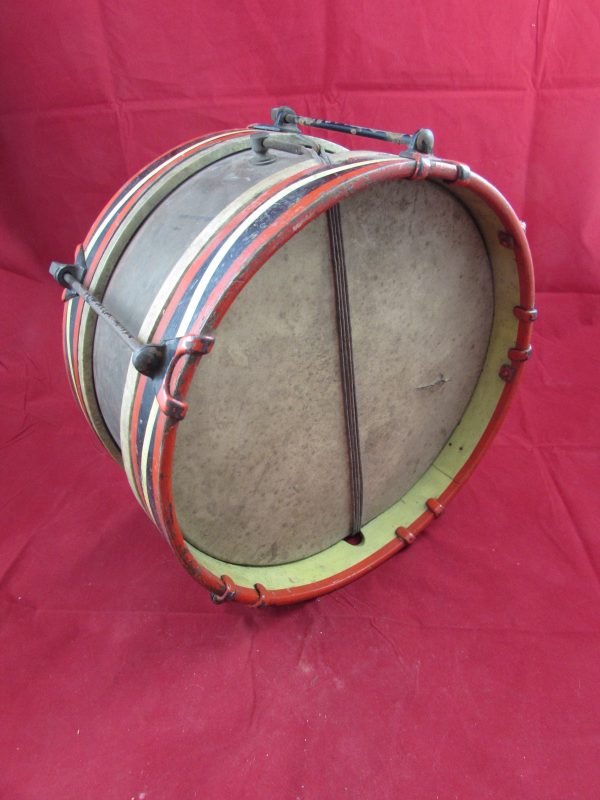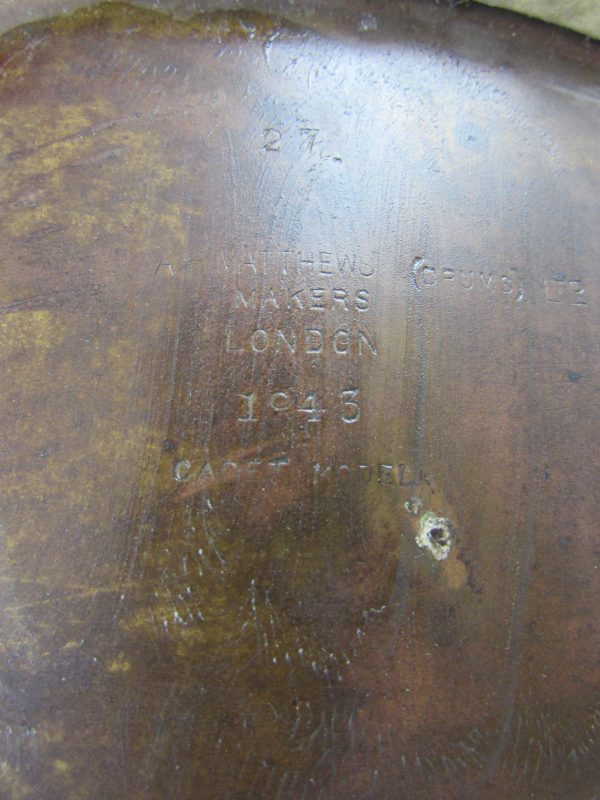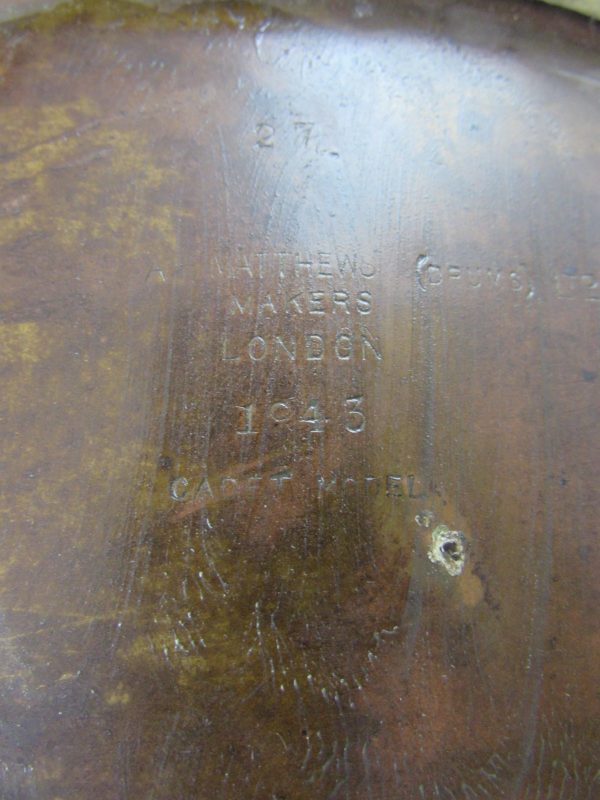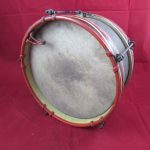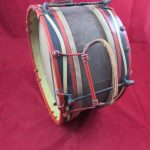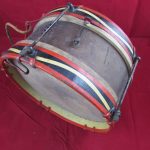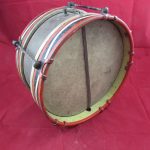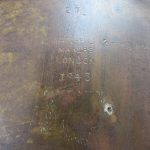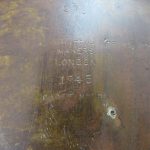 Antique Military Snare Drum 1943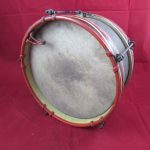 Antique Military Snare Drum 1943
£125.00
£125.00
Antique Military Snare Drum 1943
Description
Shipping and Delivery
Description
Antique Military Snare Drum 1943
Antique Military Snare drum, military livery, brass and wood, marked on the side A. H. Mathews of London , no 27. 1943.
No dents to brass work and nicely painted , all original.top skin in good but used condition, underside skin , small repair, but done long ago.
Antique Military Snare Drum 1943
The snare drum (or side drum) is a percussion instrument that produces a sharp staccato sound when the head is struck with a drum stick, due to the use of a series of stiff wires held under tension against the lower skin. Snare drums are often used in orchestras, concert bands, marching bands, parades, drumlines, drum corps, and more. It is one of the central pieces in a drum set, a collection of percussion instruments designed to be played by a seated drummer and used in many genres of music.
Snare drums are usually played with drum sticks, but other beaters such as the brush or the rute can be used to achieve different tones. The snare drum is a versatile and expressive percussion instrument due to its sensitivity and responsiveness. The sensitivity of the snare drum allows it to respond audibly to the softest strokes, even with a wire brush; as well, it can be used for complex rhythmic patterns and engaging solos at moderate volumes. Its high dynamic range allows the player to produce powerful accents with vigorous strokes and a thundering crack (120+ dB) when rimshot strokes are used.
The snare drum originates from the tabor, a drum first used to accompany the flute. The tabor evolved into more modern versions, such as the kit snare, marching snare, tarol snare, and piccolo snare.[1] Each type presents a different style of percussion and size. The snare drum that one might see in a popular music concert is usually used in a backbeat style to create rhythm. In marching bands, it can do the same but is used mostly for a front beat.  In comparison with the marching snare, the kit snare is generally smaller in length, while the piccolo is the smallest of the three. The snare drum is easily recognizable by its loud cracking sound when struck firmly with a drumstick or mallet. The depth of the sound varies from snare to snare because of the different techniques and construction qualities of the drum. Some of these qualities are head material and tension, dimensions, and rim and drum shell materials and construction.